FREYJAS WISDOM
STORYDANCING RETREAT IN ICELAND
Oct 7  -12, 2018
Do you dream of travelling to Iceland on a retreat?
Would you like to explore storytelling, dancing, singing and using creativity in your self-development process?
Do you need time to experience more tranquility and stillness, where you can ponder how to make beneficial changes in your everyday-life?
Would you love to have 5 days of deeply letting go of emotional baggage – and in stead embracing your sensuality, pleasure and enjoyment?
If "YES" – this Iceland-retreat is just for YOU!
Freyja was the great goddess for all the elements and life-death-re-birth for the Norse people

Freyja – Vanadís she was called – the fairy of the Vanes! We know her in the Aesirs belief as the goddess of love and fertility, but prior to patriarchy – Freyja was much more than simply the lover of Odin. She was the great mother, the völva – the shaman who could foresee the future and to a certain degree change it, and the valkyrie – in its original meaning – the falk who sings the last song for the dead.
When we work with Freyja in this retreat – we try to work with her original aspects through the most ancient scriptures, archeological knowledge and linguistics. But the most important aspect of the retreat is that we mirror our own lives through the story of Freyja via dance – and thereby open op for our own creative life-force.
In this workshop you will through storytelling, dance and visualisation:
Re-unite with the intuitive sensual and sensitive feminine side – whether you are a woman or a man. The part inside all of us that 'knows' and is connected with your essence
Find calmness inside – a deep feeling of security within your own skin
Continue the journey of healing the divine feminine within you – embracing pleasure, sensuality, laughter and pure joy!
Find the healthy, supporting, and loving masculine side of yourself – that is free of the patriarchal programming
Unite and harmonize the feminine and maskuline sides of yourself – so they can enter a healthy partnership
THE PROGRAM
Day 1, October 7: Welcome! Opening
10 a.m.: You´ll be picked up at the International Airport in Keflavík.
11.30 a.m. – 1.30 p.m.: Thingvellir – we´ll have a look at this spectacular place where the European and N-American tectonic plates meet and where the world´s oldest parliament was established.
1.30 p.m.: We drive to Skálinn between Gullfoss og Geysir
2.30 p.m.: Settle in Skálinn.
4.30 p.m.: Storytelling. Hanna tells the nordic myth about Freyja. We start gently shaking off the dust from travelling.
7 p.m.: Dinner
Day 2, October 8: Wholeness – working with the elements: 
7-8 a.m.: Morning-yoga.
8-9 a.m.: Breakfast.
9-12 a.m.: Freyja – the goddess for all the elements. Working towards wholeness – embracing all the elements within ourselves.
12 a.m.: Lunch and freetime afterwards where you have a possibility to go horseriding.
7 p.m.: Dinner
8-9 p.m. Hanna sings healing Icelandic love-songs and lullabies and we´ll learn to sing an Icelandic song.
Day 3, October 9 – The Feminine and the Masculine –  letting go of 'heavy energy', embracing and supporting sensuality, pleasure and joy:
7-8 a.m.: Morning-yoga.
8-9 a.m.: Breakfast.
9-12 a.m.: Freyja and her mates Odur og Odinn. We become conscious of our hurt feminine and masculine sides and when we act from there. We embrace and integrate our healing feminine and masculine sides.
12 a.m.: Lunch
2 p.m.: Excursion to the magnificient waterfall Gullfoss and the sparkly geysir Strokkur. 
7 p.m.: Dinner
8-9 p.m.: Newmoon ceremony with a bonfire. Hanna tells the Icelandic legend about the Sealwoman. 
Day 4, October 10: Hello intuition – here I am! 
7-8 a.m.: Morning-yoga.
8-9 a.m.: Breakfast.
9-12 a.m.: Freyja as a völva. We work with Freyjas totem-animals and sorcery. We work with tuning into our intuition. We work on our dancing-ritual that we´ll dance tomorrow morning.
7 p.m.: Dinner
8-9 p.m.: How do we tune into taking care of Mother Earth – and thereby honoring the feminine in real-life: Hanna tells the short version of the nordic myth of the Tree of Life. We integrate the collective shadows through dance, movement and meditation to find our own way to honor nature. 
Day 5, October 11: Ritual dancing
7-8 a.m.: Morning-yoga.
8-9 a.m.: Breakfast.
9-12 a.m.: Ritual dancing of the story of Freyja.
12.a.m: Lunch
Freetime in the afternoon. Opportunity for horseriding.
6 p.m.: Dinner and goodbye party
October 12: Farewell for now
7.30 a.m.: We drive to the International Airport in Keflavik
10 a.m. Farewell and thanks for now.
Every day we work with the story of the Freyja myth through free dance with open or closed eyes. An inner proces to find our own inner 'voice' – before we bring this inner compass in the outer world. We do small daily dancing rituals all together in a dancing circle with open eyes in order to bring our inner voice- our contribution – out in our dancing community. We use visualizations to integrate the process.
Besides the course, we will be visiting the mighty waterfall Gullfoss and the beautiful geysir Strokkur, which errupts every 5-6 minutes.
You will have time to sit and enjoy the beautiful surroundings at the eco-village, the stillness, reading, writing or have inspiring conversations with the other participants. You´ll have opportunity to ride a horse in nature on your own cost. There is also a nice eco-café in Sólheimar, where you can enjoy a good cup of coffee/tea and taste Icelandic cake.
Put a mark in your calender on October 7 – 12, 2018 – and give yourself the gift of focusing on your own heart´s wisdom and creativity.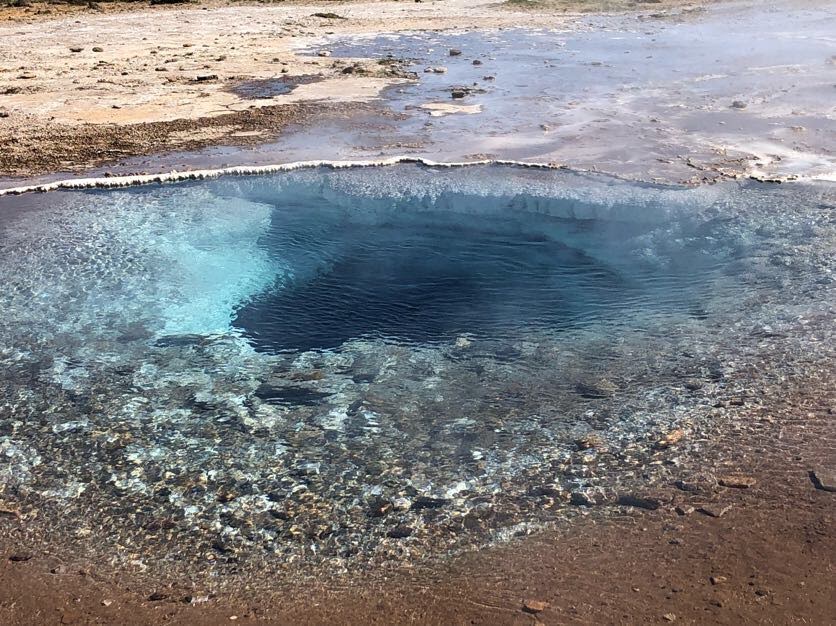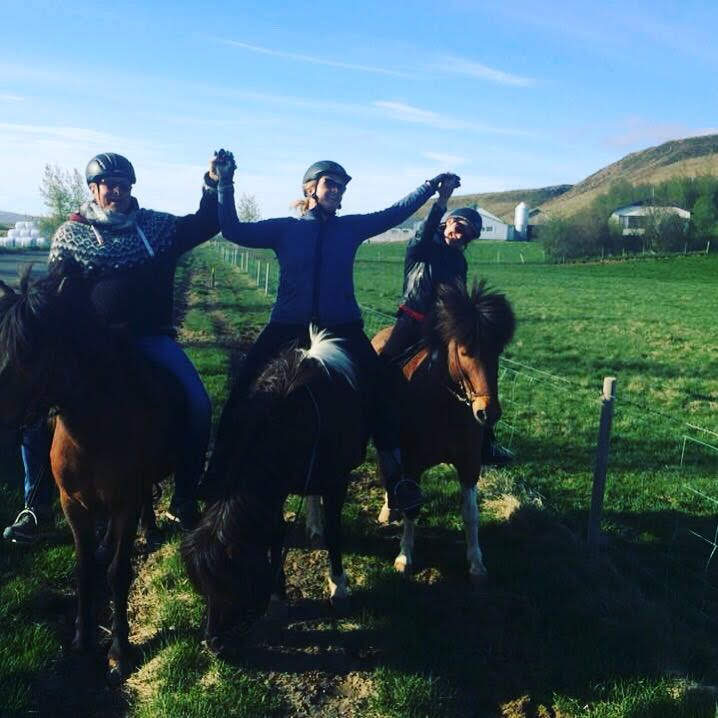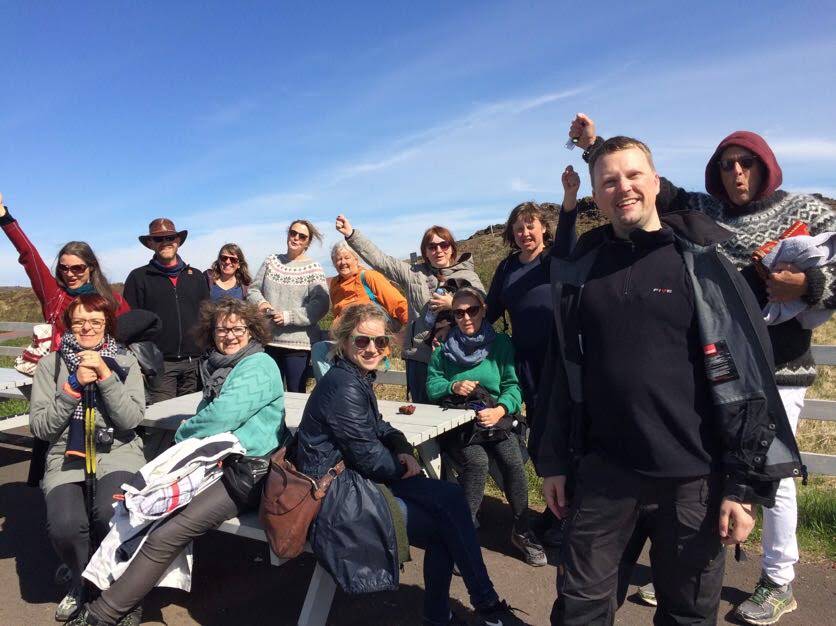 IN THIS ICELAND-RETREAT YOU´LL GET:
five half-day Storydancing workshops of high quality
evening program with singing and inspirational speech "5 Keys to Sustainable Living"
daily yoga morning-sessions
a group of like-minded people with time for each participant
5 nights in a beautiful sommerhouse with a beautiful view close to both Gullfoss og Geysir
horse-riding (if you like)
healthy vegetarian food
transport to and from Keflavik Lufthavn
excursion to the magnificent waterfall Gullfoss and Geysir
THE ICELAND-RETREAT IS FOR YOU, WHO WISHES: 
to live from your heart´s wisdom and in reciprocity with nature
longs for a deep connection with nature
renewed energy and a way to maintain a balanced every-day
more presence and wellbeing
to integrate creativity into your everyday life
to dance yourself emotionally free from old bonds and (re)-find your primeval force – your essence
WHAT DO FORMER PARTICIPANTS SAY?
"This retreat has no doubt been the most heart-opening experience I have ever had! A dance-workshop with this fantastic woman, Icelandic völva, powerful and gentle storyteller and singer is just magical to experience in her own home-country. I will forever remember this journey as something so beautiful that words can never describe."
Frank Mikkelsberg
"Iceland – the country you never really return from. In May/June 2018 I participated in Hanna´s Storydancing retreat in Iceland´s magical nature. In the dance accessed to my inner child. In a playful and free way, I put light on my shadow-sides. I am a 2nd year psychotherapy student and have worked determined on becoming aware of these sides within myself – up to now without success! Through dance I found my way in. 
Hanna is a passioned, engaged og lively person, who manages to create a safe space and give space to differences among her participants.
The placement of the retreat, the dance, the exhibitions and the interaction with the inspiring participants all went up in a higher unit. And left me with experiences and insights that I am deeply grateful for."
Jane Huusfeldt
WHO CAN PARTICIPATE?
The retreat is for all adults over 18, who wish to gain greater connection with the nordic roots and creativity. The retreat is for max. 18 participants – so there is space for each person in the group.
Price:
9.800 DKK for Storydancing workshops, accommodation in Skálinn (based on 2-3 people in a shared bedroom), vegetarian food, transportation to and from Keflavik International Airport and excursion to Gullfoss and Geysir.
Early Bird: Safe 700 DKK by registering prior to July 14.
You need to buy your airline ticket yourself. The prices are between 1.200 – 2.000 DKK this time of the year, depending on the day you choose to arrive/depart.
Notice: Since this is a group-retreat for a minimum of 12 participants – please wait until we confirm this retreat. This will happen before the 1st of August 2018.
You can choose to book your flight through either www.sas.dk, icelandair.com eller www.wowair.dk. Or search for an airline ticket here: www.momondo.dk.
Make sure that you arrive in Iceland before 12.30 p.m. on the 7th of October in Reykjavik/Keflavik (KEF) lufthavn and that you book a flight earliest at 1 p.m. (kl. 13:00) on the 12th of October, since the retreat first ends approximately at 11 a.m. at Keflavik Airport.
You are of course welcome to arrive earlier or leave later in order to experience the magnificent nature of Iceland.
And remember to travel lightly.
Registration 
Registration with Hannas manager – Jacob Kleberg . Mail: jacob@snowball.management and phone: +45 24 24 06 22. Any questions regarding practical details, payments details or a payment plan can be answered by Jacob.
You are welcome to call or write to Hanna if you have any questions regarding the dancing-programme. Phone: +45 60 93 93 02.  mail: hanna@storydancing.com
Registration date: Prior to August 15th 2018
Your registration is first registered when you both write an e-mail to jacob@snowball.management and have paid a non-refundable deposit of 5.000 DKK paid to account no: IBAN: DK0484010001272717 – SWIFT: MEKUDK21. The full amount will be charged on the 15th of August for payment on September 1st 2018.
If you need a payment plan – please contact Jacob Kleberg.
Limited spots
Spot limit is 16 people.
Language
The retreat will take place in English. If attendance is only by Danish people – the retreat will be held in Danish.
ABOUT STORYDANCING
In Storydancing we use myths, dance, movement, creativity and visualizations to increase our awareness, break old patterns and embrace our creativity.
The myths tell about human life. When we mirror our own life in the myth, we gain deep insight in the next step on our selfdevelopment path. By using movement, dance and meditative visualization to express the myth we take on the journey from 'head' to 'heart'. Thereby we gain new and deeper insight in ourselves than the repetitive beliefs we carry in our head. Or with Albert Einsteins words: "We can't solve problems by using the same kind of thinking we used when we created them." By using storytelling and movement, we break with old patterns and open op for the connection with our creative impuls, where solution come with ease and grace.
Accommodation – just between Gullfoss and Geysir
We´ll be living in a big sommerhouse in the middle of the Golden Circle. The house has everything we need – and more, among others:
We will live at the portal to the highland – 5 km to the magnificent waterfall Gullfoss and Geysir.
The most beautiful view over Geysir and the raw and at the same time sensitive nature from our living-room window.
Horserental with Icelandic horses just beside our house, for those who ride.
Rooms with single-beds that we share 2 or 3. There are 8 rooms in the house.
Nice wooden floors, that are soft and sweet for our feet.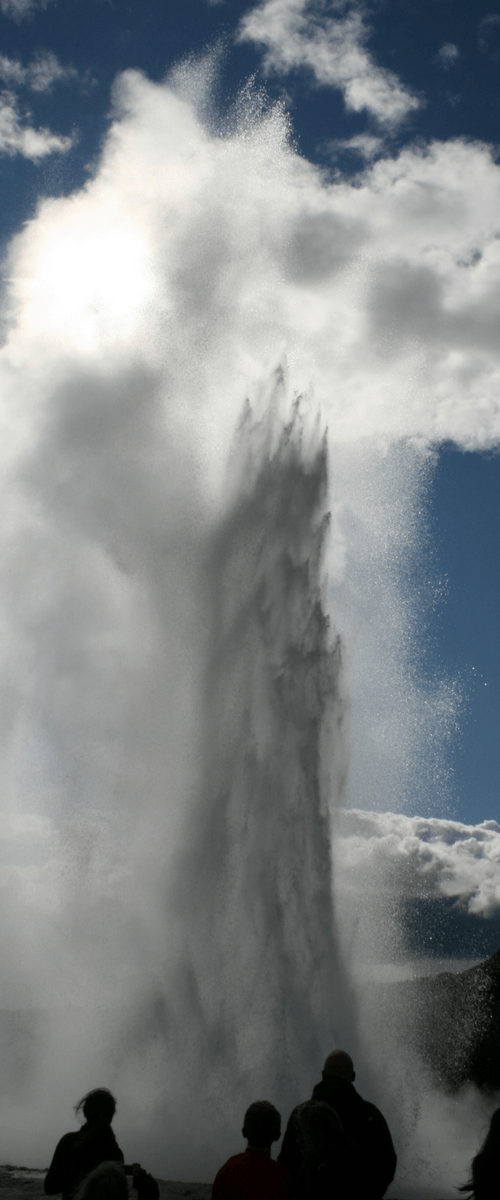 ABOUT HANNA SNORRADÓTTIR
I am a storyteller, story-dancer and well-being consultant. I am educated actress at Scene1, Copenhagen and environmental engineer from The Technical University of Denmark.
"I believe that when we connect with our roots in the Nordic myths – through dance, narrative and creativity – we get in touch with something much bigger than ourselves. Something that carries us through both the greatest joy, which we almost can´t allow ourselves to feel out of fear of being "too good to be true" and the deepest sorrow and life crises. "
My students describe me as being passionate, present, trustworthy and compassionate – allowing space for everyone. I love watching my students gain deep insights into their own lives and open up their hearts for a room where magical transformation can take place.